Jeep Wranglers and Cherokees are capable, off-road vehicles that are perfect for off-roading. Of course, taking on the toughest trails and obstacles in your Jeep requires the right bumpers. Whether you need a winch, D-Rings, added protection or all of the above, finding the ideal bumper for your needs can help you get your Jeep ready for all your off-road adventures.
Jeep Wrangler JK Bumpers and Winches
Jeep Wrangler is perhaps the most recognizable American, off-road SUV. The JK generation, which lasted between 2006 and 2018, is the second most recent Jeep Wrangler. Although it has been discontinued in favor of the TJ generation, it is still a common sight on the roads and trails. We offer some great bumpers for this capable vehicle:
This Jeep winch bumper is a great upgrade for your Jeep Wrangler JK. It features a winch mount that can take up to a 13,000lb winch and D-Ring recovery hooks to help you get your vehicle out of tricky situations. Of course, the best feature is the rugged look that will refresh your Jeep's front end.
Our rear bumper and tire carrier is a great upgrade for your JK's rear end. It has D-Ring recovery points, and a fully tow-capable, Class III, two-inch hitch. The tire carrier features a strong, aluminum handle and the rest of the bumper is made from durable steel.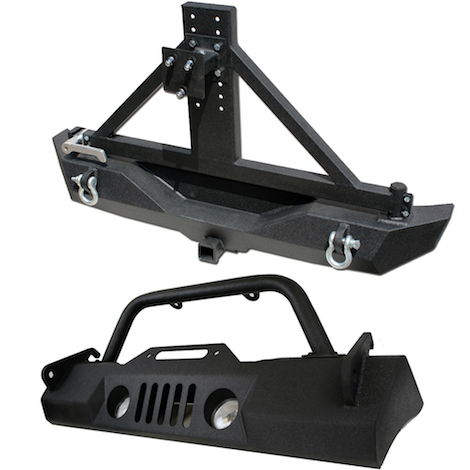 Get a special deal on our front and rear bumpers when you purchase them as a combo. Maximize your Jeep's protection and gain all the recovery points you need while revamping the look of both ends of your Jeep with this great package.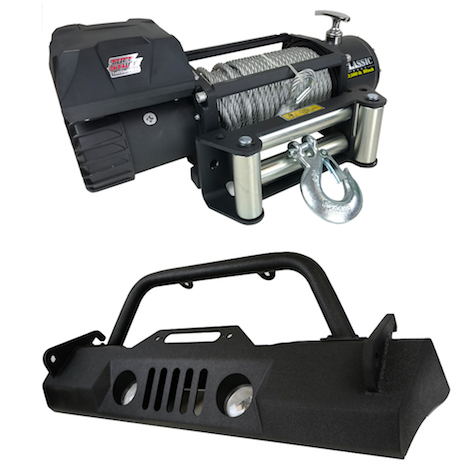 Alternatively, get a winch with your front bumper using this combo. Again, you will receive great savings when you purchase the front bumper along with the Classic 12,500lb Winch.
Jeep Cherokee XJ Bumpers and Winches
Since 1974, SUV enthusiasts have been in love with the Jeep Cherokee. Originally a two-door variant of the Wagoneer, it quickly grew into a top-choice with a following of its own. The XJ generation was the second Cherokee platform, offered between 1984 and 2001. It was also the first generation that was completely separate from the Wagoneer.
Upgrade your Cherokee with our front winch bumper with D-Rings. This Jeep XJ winch bumper will let you easily extend your Cherokee's capabilities with a winch. If also feature an impressive look and D-Ring recovery points. So, you can be all the more confident taking on trails in your Jeep Cherokee. It even features integrated jack points to make changing your tires or wrenching on your front end easier.
Find More Jeep Parts and Accessories
Check out our full line-up of Jeep parts and accessories to get more from your beloved vehicle. The Jeep Wrangler and Cherokee are both capable vehicles that are ready to tackle a variety of trails. Our products can make your adventure drives even more fun by letting you outfit your Jeep just the way you want.